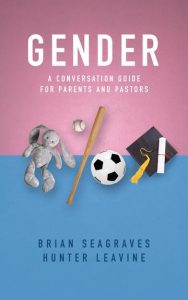 Many parents and pastors, along with others in our society, are struggling with the issue of gender. While there have been discussions and debates on some aspects of gender, it has been accepted that there are only two genders, and this matches with the body God gave you.
But no more. Our culture has rapidly accepted the idea that one can feel they are a different gender to what their body is. These are arguments we haven't heard before, and our children are being taught them by their friends, the shows they watch, and their teachers at school.
'Gender: A Conversation Guide for Parents and Pastors' is a helpful first step for those wanting to be better prepared to teach their children what God says about gender. Roughly dividing the conversation into 3 parts: pre-primary school, primary school, and high school aged children, the building blocks for the biblical view of gender are laid.
The reader is given some 'key concepts and passages,' a great help for those unsure how to teach biblically on gender. There are 'sample dialogues,' ideas for how you could briefly explain these concepts to your children, 'age-tips' and 'questions and discussion starters.' All of these are brief, and helpfully grounded in the Bible.
There is a section for adults, where some different objections to the biblical view are addressed, but the authors manage to avoid being technical. This is an easy to read book, short (75 small pages), cheap, and an excellent first step for parents and pastors to understand the issues themselves, and then to teach to the children in their care.
Our world is having a constant conversation with our children about gender. This book is a helpful guide to fill our children with God's word, understood through the gospel of Jesus Christ, so they can be inoculated against the confusion our world wants to teach them. It is highly recommended.