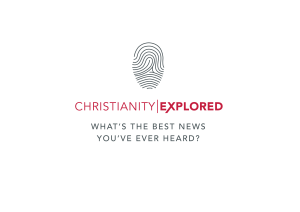 Christianity Explored is a free 7 week course (plus an optional 'weekend away') that explores questions that cut to the heart of Christianity: Who is Jesus? What did he achieve? How should we respond?
There's no obligation – check out the first week and see what it's like!
It's a place you can also ask your own questions about God, Jesus, life and death, have them discussed, and hear the answers the Bible gives. Whether you're the kind of person who has lots to say, or you'd prefer to listen to everyone else, you're more than welcome.
During the 7 weeks you'll:
read one of the biographies of Jesus' life (the earliest and shortest: the Gospel of Mark)
answer some 'what happened' and 'why do you think' questions
watch some videos on major themes of Mark's Gospel (and Christianity)
enjoy some coffee/tea and cake (when we're meeting in person!)
Are you interested? Curious? Then please get in contact!